Famous Latium
and Rome dishes
Major city: Rome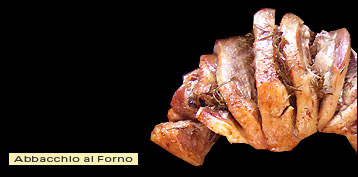 Famous
cuisine specialties
of Latium and Rome

Abbacchio al Forno
Rosemary-scented roast suckling lamb that is particularly popular at Easter.

Fettuccini al Burro
Also known as Fettuccine Alfredo or alla Romana. Flat ribbon-shaped pasta is tossed, generally, with cream, butter and cheese, then given a good sprinkling of freshly ground peppercorns.

Cannelloni
A flat sheet of cooked pasta spread with meat, cheese, or another filling, then rolled into a tube, topped with a sauce, and baked.

Gnocchi alla Romana
Poached then baked cork-shaped dumplings made with semolina and/or potato flour. Top them with tomato meat sauce and grated cheese.

Carciofi alla Guidea
Literally, Artichokes Jewish Style. The vegetable is deep fried and flattened out to resemble flowers.
List continues on next page.
Learn More

for next Latium/ Rome cuisine page
Also learn about these
Italian culinary regions
and their famous dishes
Italian culinary regions
Campania and its Naples
Emilia Romagna and its Bologna
Latium and its Rome
Liguria and its Genoa
Lombard and its Milan
Piedmont and its Torino
Sardinia
Sicily
Tuscany and its Florence
Veneto and its Venice
Plus some other regions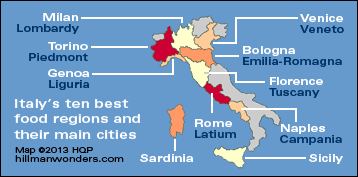 Also read
Italian cuisine - Home page
Top 10 Italy travel wonders
Photo by Masolino/Tommaso Passi - CC BY 2.0
Italian Government Tourist Board

Rankings
Peasant recipes
World wonders
Also read
Site map
About me and my credentials
About my website
Reader testimonials
Email me your opinion