Liguria/Genoa cuisine
Food tips you can trust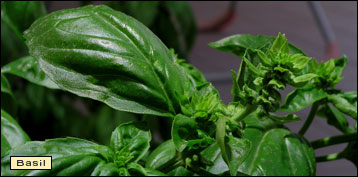 Pesto is
Liguria and Genoa'
s most famous specialty

Birthplace
The region of Liguria is the birthplace of pesto, that fragrant, thick, green sauce that is now prepared by cooks around the world.

How pesto is
authentically made
Pesto is made by pounding its ingredients together with a pestle (hence, the name) in a mortar. The essential ingredients are basil, garlic, Parmesan and Sardinian ewe's milk cheeses, along with pine nuts and olive oil. This last ingredient, olive oil, is Liguria's chief cooking oil and creates one of the several exceptions to the "butter in the north" rule.

How Ligurians use pesto
They have discovered many ways, including liberally adding a dollop on their trenette (egg noodles), as well as on their versions of minestrone (soup) and potato flour gnocchi dumplings.
Other famous
specialties of Genoa and Liguria

Burida
A seafood stew made with various fishes. It's Liguria's best-known seafood specialty.

Pizza all' Andrea
This pizza is easily distinguished from the Neapolitan variety by a generous topping of olives.

Torts Pasqualina
A flaky spinach and cheese Easter pie.
Learn More

for next Liguria/Genova page
Also learn about these
Italian culinary regions
and their famous dishes
Italian culinary regions
Campania and its Naples
Emilia Romagna and its Bologna
Latium and its Rome
Liguria and its Genoa
Lombard and its Milan
Piedmont and its Torino
Sardinia
Sicily
Tuscany and its Florence
Veneto and its Venice
Plus some other regions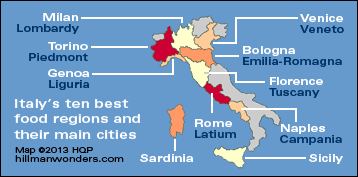 Also read
Italian cuisine - Home page
Top 10 Italy travel wonders
Photo by Pollobarca2 - CC BY-SA 2.0
Italian Government Tourist Board

Rankings
Peasant recipes
World wonders
Also read
Site map
About me and my credentials
About my website
Reader testimonials
Email me your opinion