Famous
Mexican Beverages
Food tips you can trust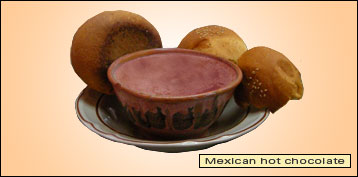 Famous
Mexican beverages

Hot chocolate
Mexico is well-known for its frothy, hot chocolate. It is traditionally whipped up in the cup with a molinillo, a carved wooden stick.

Aztecs
They restricted this drink to royalty.

Spanish
They added sugar and cinnamon - and democratized the beverage

Beer
For me and millions of Mexicans, an icy bottle of beer is the best accompaniment to most spicy Mexican meals.

Pulque
Before or after a meal, think Pulque, a 12-proof drink made from the fermented sap of the maguey plant. It is enjoyed by many Mexicans, and a few foreigners.

Tequila
Visitors are, in general, fonder of Tequila, a strong drink distilled from the cactus-like agave plant. The aged, darker-hued Tequila has more character than the clear product.
Also learn these Mexican
food tips and insights
Click blue links to see their pages
Mexican food - Intro
National: Cuisine characteristics
National: More characteristics
Regional: Northern + Central
Regional: Coastal + Southern
Famous Mexican beverages
Photo by Alejandro Linares Garcia - CC BY-SA 3.0

Rankings
Peasant recipes
World wonders
Also read
Site map
About me and my credentials
About my website
Reader testimonials
Email me your opinion