How savvy are you
about Mexican food?
Mexican cuisine home page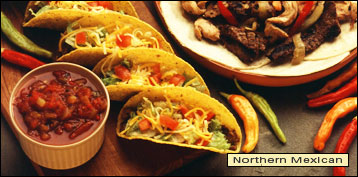 Mexican combo plate

Is this considered a cliche
menu item?

Northern Region
Mole Poblano

Is the celebrated entree
supposed to have a strong
chocolate taste?

Central Region
Huachinango a la Veracruzana

Which fish is used for this
well-known specialty?

Coastal Region
Cladillo de Mariscos

What are the main ingredients
of this popular soup/stew?

Coastal Region
Pozole

Is the popular pozole
specialty made with a corn,
potato, or rice?

Southern
Huevos Rancheros

Do you know how to
make this egg preparation?

National
Tortillas

What part of Mexico are they made with corn? With wheat?

National
Main meal

Traditionally, what part of the day does it occur?

National
Tequila

Of which plant is it made?

Beverages
Also learn these Mexican
food tips and insights
Click blue links to see their pages
Mexican food - Intro
National: Cuisine characteristics
National: More characteristics
Regional: Northern + Central
Regional: Coastal + Southern
Famous Mexican beverages
Photo by Scott Bauer - PD

Rankings
Peasant recipes
World wonders
Also read
Site map
About me and my credentials
About my website
Reader testimonials
Email me your opinion