Coastal & Southern
Mexican food regions
characteristics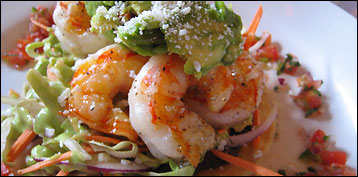 Mexico's two
coastal regions -
Pacific and Caribbean

Overview
The cooks of the two coastal areas - such as those around Acapulco on the Pacific and Veracruz on the Caribbean side of the country - rely more on the natural goodness of their fresh ingredients than on a complicated cooking style. Seafood and tropical fruits are star ingredients.

Famous dishes

Huachinango a la Veracruzana
Red snapper marinated in lime juice and baked with chili, tomato puree, olives and capers. This Veracruz city classic is one of the world's great peasant dishes.

Caldillo de Mariscos
A thick, hearty soup or stew made with a medley of fresh fish and shellfish.
Mexican cuisine
southern region

Overview
The Yucatan Peninsula is the most interesting culinary area of Mexico's southern Mexican cuisine region. Its cooking influences date back to the ancient Mayans who once inhabited this lush tropical land:

The 3 most Famous dishes

Pollo Pibil
Chicken marinated with reddish annato spice, rolled in banana leaves, and steamed in an outdoor pit.

Sopa de Lima
Lime-infused chicken soup garnished with sizzling tortilla fragments.

Pozole
A chili-rich concoction of hominy and smoked pork. The Yucatan version is chili-hotter than those cooked elsewhere in Mexico.
Also learn these Mexican
food tips and insights
Click blue links to see their pages
Mexican food - Intro
National: Cuisine characteristics
National: More characteristics
Regional: Northern + Central
Regional: Coastal + Southern
Famous Mexican beverages
Photo by Jason Weaver - CC BY 2.0

Rankings
Peasant recipes
World wonders
Also read
Site map
About me and my credentials
About my website
Reader testimonials
Email me your opinion