Top 10 reasons
to visit Dubai
Travel tips you can trust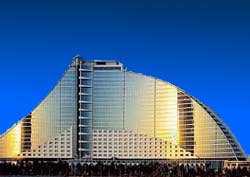 Dubai's top 10 draws

Spectacular modern architecture
Leading architects from around the world consider Dubai's sprouting modern buildings to be remarkable. Design masterpieces include the Burj Khalifa skyscraper and Burj Al Arab hotel (both Hillman Gold Medal winners). Dubai also has the wave-shaped Jumeirah Beach Hotel (see photo) and the twin Emirates Towers.

Dubai is upbeat and exciting
It has an energetic cosmopolitan lifestyle and an entrepreneurial spirit. Dubai has 100 vibrant nightspots with no prohibition on drinking alcohol. It stages frequent concerts and firework spectaculars. Dubai has a wide choice of restaurants serving food from dozens of countries.

Superb shopping
Dubai is known worldwide for its shopping variety and bargains. The highlight is the gold market where artistic jewelry is sold. You will also find traditional souqs (markets) in covered alleys and streets. And, there are well-appointed stores in air conditioned modern malls featuring the latest in international fashions.

It has sun galore
In the summer, practically every day is sunny. In the winter, rainfall is usually modest and most days are sunny.
Tip: Despite the modest possibility of rain, the winter months (November to March) is peak tourist season because humidity and temperatures are normally moderately comfortable. This is not the case during the summer months. June, July and August can be very humid and scorchingly hot (with occasional sandstorms driven by the strong Shamall winds). On the positive side, many buildings and vehicles are air conditioned - and hotel room prices and scarcity drop.

Great beaches
Dubai has long stretches of beautiful, unspoiled white beaches. It also has upscale umbrella-dotted beaches. The best is Jumeirah Beach, located near the Burj Al Arab hotel.

Dubai is friendly
The inhabitants are well-known for their traditional Arabic hospitality. Visitors are treated as welcomed guests.

Premier sports capital
of the Middle East
Dubai hosts two world-class tournaments, the Dubai Desert Golf Classic and the Dubai Tennis Open. Dubai's deluxe race track holds two world records on stakes ($15 million for a single race day and $6 million for a single race). Other popular sports activities include golf, sailing, deep sea fishing, diving, snorkeling, water skiing, dune surfing, falconry, and camel racing.
Dubai even has a large indoor ski resort with slopes ranging from snow bunny to good-skier level. There are also bobsled and snowboard slopes.

Luxurious hotels and resorts
The finest include the Burj Al Arab and the Al Maha (sits secluded in the middle of a desert wildlife reserve). The new Armani in the Burj Khalifa skyscraper is the latest addition to the exclusive list.

Dubai is safe for travelers
It is one of the world's safest travel destinations because street and hotel room crimes are practically non-existent.

Multi-cultural
Only about 20% of the inhabitants are considered "locals." The remaining 80% come from over 100 countries (led by India, Pakistan and the Philippines). This has generated a vibrant fusion of cultures. However, distinct traditions of each culture remain, which lends character and produces vivid ethnic contrasts.
Know these Dubai tips and insights
Dubai pages
Top10 things to do in Dubai
Ten reasons to visit Dubai
Burj Khalifa
Burj Khalifa - interesting facts
Burj Al Arab
Best hotels & resorts
Interesting Dubai tidbits
Cruise guide
Persian Gulf cruise
Dubai Tourism official website

World's Top 100 Wonders
World's Top 1000 Wonders
Site map
My credentials
About my website and criteria
Reader testimonials