Agra Fort
Travel tips you can trust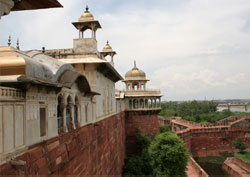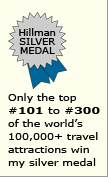 Why the
Agra Fort
is special
This sprawling citadel is rich in history and sights to see. And it's larger and better preserved than its sibling, the Red Fort of Delhi.
Best Agra Fort
attractions
Walls and gates
The tall, thick walls are 2.5 kilometers (1.5 miles) long. The imposing Lahore and Delhi gates are artistic masterpieces.
Pavilions
Standouts include:

Diwan-i-Aam - used for public audiences


Diwan-i-Khas - for dignitary audiences


Khas Mahal - painting-on-marble artworks


Jahengri - built for Akbar's son


Sheesh Mahal - known for its mirrored walls
Musamman Burj
Some believe that from this tall tower the imprisoned Shah Jahan spent his final years gazing at the Taj Mahal, his wife's magnificent marble tomb.
Other structures
They include several picturesque mosques.
More
Agra Fort
tips & insights

Two Red Forts
The similarity between the Red Fort of Agra (as it is sometimes called) and the Red Fort of Delhi is not coincidental. The latter is more or less a copy. Their red sandstone gates and walls give them the "red" designation.
Which is the larger and best preserved? The Agra Fort wins.

History in brief
The site as a fort dates back to at least the 11th century. The great Mughal emperor Akbar rebuilt, lived in, and ruled from it in the 16th century. His famous grandson Shah Jahan made serious architectural modifications in the 17th century.

Location in India
Agra Fort is on
the famous Golden Triangle tour route


to learn about it.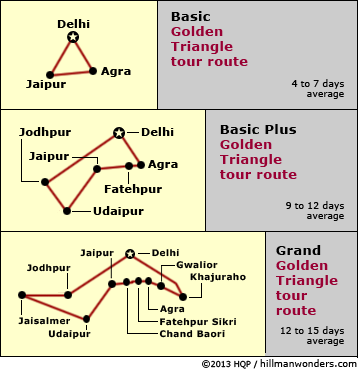 Wonders of India - Top 10 rankings
Basic Hindi phrases for travelers
Indian cuisine
Flying to India
World's Top 100 Wonders
World's Top 1000 Wonders
Site map
My credentials
About my website and criteria
Reader testimonials
David Castor

World's Top 100 Wonders
World's Top 1000 Wonders
Site map
My credentials
About my website and criteria
Reader testimonials