Best Golden Triangle
tour routes
and the Hillman Wonders
you will see
The best 3
Golden Triangle
tour routes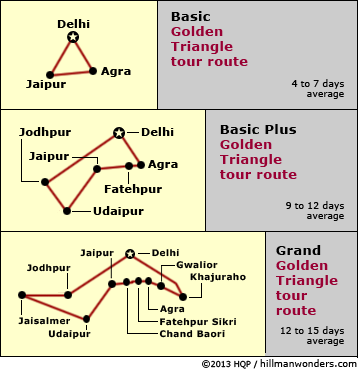 You start and end in Delhi - and can travel in a clockwise or counter-clockwise direction.
You travel by road, rail and/or air.
Consult your travel agent or tour operator to customize an independent tour by adding or dropping destinations to suit your preferences.
The 17
Hillman Wonders you see
Click blue links
to read my candid tips on
each Hillman Wonder medal winner

Basic route
You visit these 10 Hillman Wonders
Delhi
Humayun Tomb
Jama Masjid
Lotus Temple
Qtub Minar
Red Fort
Jaipur
Amber Fort
Jantar Mantar Observatory
Palace of the Winds
Note: The Golden Triangle gained its name because the Basic route ( Delhi-to-Agra-to-Jaipur-to-Delhi) forms a triangle.

Basic Plus route
You see the 10 Hillman wonders listed
above plus these 4 Hillman wonders.
Abhaner
Chand Baori
Fatehpur
Fatehpur Sikri

Jodhpur
Mehrangarh Fort
Udaipur
Lake Palace Hotel

Grand route
You visit all the 14 wonders listed
above plus these 3 Hillman Wonders -
for a total of 17.
Gwalior
Gwalior Fort
Khajuraho
Khajuraho Temples
Jaisalmer
Jaisalmer Fort
Note on Ranthambore: I do not award a Hillman Wonder medal to this popular tiger reserve. Reason: Nowadays its tigers are few and often hard to spot.

Top 10 Golden Triangle sights
Best time to go
Best 3 Golden Triangle routes
Private car-driver vs other tour types
How to select a good car-driver company
Best Rajasthan food specialties
Wonders of India - Top 10 rankings
Basic Hindi phrases for travelers
Indian cuisine
Flying to India
World's Top 100 Wonders
World's Top 1000 Wonders
Site map
My credentials
About my website and criteria
Reader testimonials

World's Top 100 Wonders
World's Top 1000 Wonders
Site map
My credentials
About my website and criteria
Reader testimonials