Humayun's Tomb
Travel tips you can trust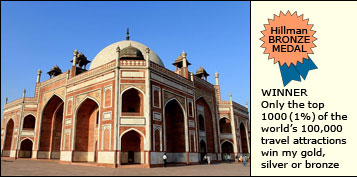 Why
Humayun's Tomb
in Delhi is special
This 16th century sandstone-and-marble monument is a major example of early Mogul architecture.
The white-marble-domed tomb was built for the Mogul Emperor Humayun (1508-1556). The building inspired the design of the Taj Mahal, which was built a half century later in Agra by Humayun's great-grandson.
Humayun's Tomb
tips & insights

Pronunciation
Humayun is pronounced hoo-MY-yoon.

Taj Mahal comparison
While the Taj Mahal in Agra is undeniably more exquisite, Humayun's Tomb is superlative in its own right. To best appreciate Humayun's Tomb, I suggest you visit it first.

Tributes to love
Both Humayun's Tomb and the Taj Mahal are grand tributes to love. The first was built by a wife for her emperor husband while the second was built by the ruling Shah for his wife.

Setting
The tomb is surrounded by expansive gardens laced with paths, ponds, channels, well-manicured lawns, and shady trees. Today, this tranquil setting provides locals with a quiet retreat from Delhi's noisy hustle and bustle.

Other occupants
More than 100 other notables (including emperors) are interred in Humayun's Tomb or in nearby structures.

Location in India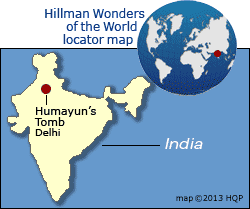 Humayun's Tomb is on
the famous Golden Triangle tour route


to learn about it.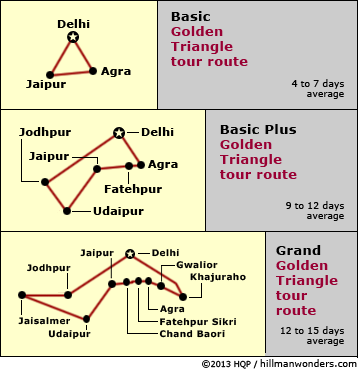 Wonders of India - Top 10 rankings
Basic Hindi phrases for travelers
Indian cuisine
Flying to India
World's Top 100 Wonders
World's Top 1000 Wonders
Site map
My credentials
About my website and criteria
Reader testimonials

World's Top 100 Wonders
World's Top 1000 Wonders
Site map
My credentials
About my website and criteria
Reader testimonials