Gwalior Fort
Travel tips you can trust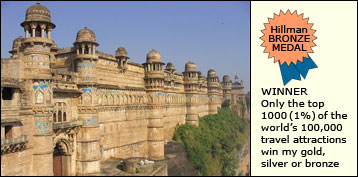 Why
Gwalior Fort
is special
Its soaring walls sport photogenic semi-circular bastions with ornate cupolas - plus eye-catching turquoise tilework. The famous Mughal Emperor Babar aptly called Gwalior Fort the pearl of Indian fortresses.
Top 3 attractions
inside Gwalior Fort

Man Singh Palace
Noted for its tilework and superb sculpturing.

Teli-Ka-Mandir Temple
Has an elaborately decorated exterior.

Gujari Mahal
This palace is now a museum.
More
Gwalior Fort
tips & insights

When to come
October to March is best because temperatures drop and monsoons are on vacation.

Setting
The fort sits imposingly on a large, elongated, steep-sided sandstone outcrop overlooking the town and beyond.

History in brief
The structure dates back to the 6th century, but today's Gwalior Fort is mainly the creation of the 15th century ruler Man Singh Tomar and his descendants. Over the next several centuries, it was conquered and ruled by a succession of dynasties: Mughals, Marathas, and Scindias, followed by the British.

Day trips
to and from Agra
The Taj Mahal city of Agra is about 140 kilometers (90 miles) away, a distance that makes day tripping possible.

Location in India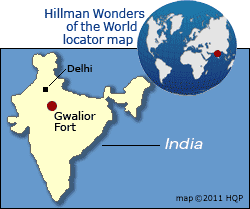 Gwalior is on the
Golden Triangle Grand tour route


to learn about it.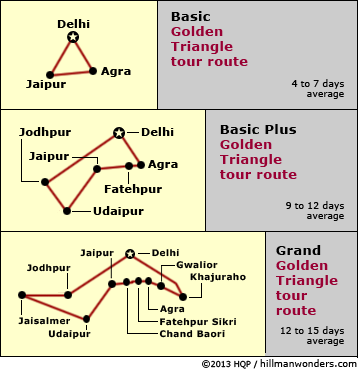 Wonders of India - Top 10 rankings
Basic Hindi phrases for travelers
Indian cuisine
Flying to India
World's Top 100 Wonders
World's Top 1000 Wonders
Site map
My credentials
About my website and criteria
Reader testimonials

World's Top 100 Wonders
World's Top 1000 Wonders
Site map
My credentials
About my website and criteria
Reader testimonials