Amber Fort
Travel tips you can trust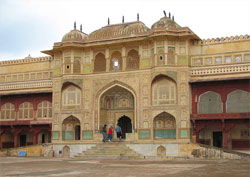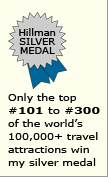 Why the
Amber Fort in Jaipur
is special
It's famous for the marked contrast between its exterior walls (austere and daunting) and inner spaces (majestically decorated with paintings, mosaics, mirror artwork, and inlaid panels). The striking interior courtyard gateway pictured above is an example of its artistic persona.
Top 5
Amber Fort attractions

Ganesh Pol
The gateway mentioned above.

Diwan-i-Aan
The generously pillared pavilion where the Raja held audiences with his subjects.

Elephant ride
Colorfully attired elephants (for a fee) amble you up the long ramp to the fort's entrance.

Sheesh Mahal
Countless mirror tiles adorn its walls and ceiling.

Shila Mela (Kali) Temple
Sports an immense silver door.
More
Amber Fort
tips & insights

Name misconception
It was not named for the color amber, as most visitors think. The citadel derives its appellation from its town, Amer. And in keeping with that fact, many people prefer to call this wonder Amer Fort.

History in brief
The Raja Man Singh began building Amber Fort in 1592. Over the next 135 years, he and his royal successors modified and expanded the original plans. In 1727, the royal seat moved 11 kilometers (7 miles) from Amer to Jaipur and the Amber Fort lost its power and glory. But many parts of the edifice today are in good condition considering their age.

Location in India
Amber Fort is on
the famous Golden Triangle tour route


to learn about it.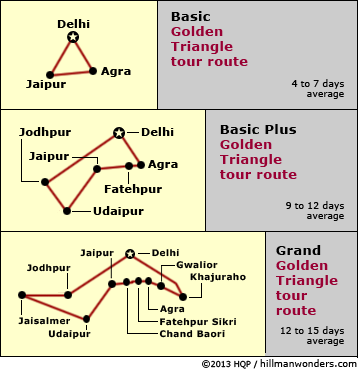 Wonders of India - Top 10 rankings
Basic Hindi phrases for travelers
Indian cuisine
Flying to India
World's Top 100 Wonders
World's Top 1000 Wonders
Site map
My credentials
About my website and criteria
Reader testimonials

World's Top 100 Wonders
World's Top 1000 Wonders
Site map
My credentials
About my website and criteria
Reader testimonials