Fatehpur Sikri
Travel tips you can trust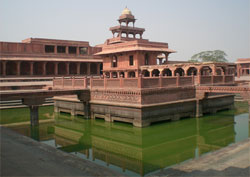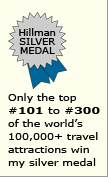 Why Fatehpur
is special
The architectural gems of this 400-year-old imperial city are fabulously well-preserved.
Top 5
attractions in Fatehpur

Jama Masjid
This mosque's outdoor prayer area can accommodate 10,000 worshippers.

Buland Darwaza
A 54-meter (177-foot) high red sandstone gate inlaid with marble leads into the mosque.

Panch Mahal
The upper floors of this five-story royal pavilion are open sided to let in cooling breezes.

Diwan-i-khas
Akbar met visiting rulers and dignitaries here.

Salim Christi Tomb
Interred is the Sufi saint who prophesized the long-wished-for birth of Akbar's first son.
More Fatehpur
tips & insights

When to come
If possible, come during the spring, fall, or winter. Summer days can be scorchingly hot - and it's the monsoon period in this part of India.
The building complex is best enjoyed when it's not overrun with visitors. Try to be here during the first or last hour of the day.

History in brief
The great Mughal emperor Akbar built his new capital from the ground up. After only 14 years of use (1571-1585), he moved his capital to nearby Agra. Why? One theory blames a water shortage due to a prolonged drought.
Soon, the royal Fatehpur Sikri complex became a ghost city - and continues to be one today.

Easy day trip
Because Fatehpur Sikri is just one hour from Agra and several from Delhi, many visitors come as day trippers.

Location in India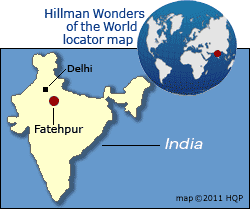 Fatehpur is on the famous
Golden Triangle tour route


to learn about it.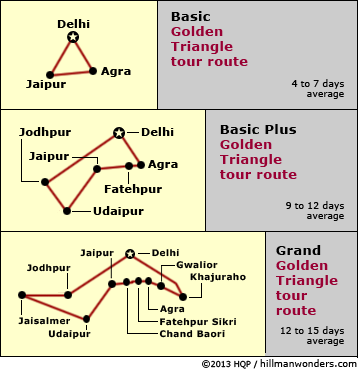 Wonders of India - Top 10 rankings
Basic Hindi phrases for travelers
Indian cuisine
Flying to India
World's Top 100 Wonders
World's Top 1000 Wonders
Site map
My credentials
About my website and criteria
Reader testimonials

World's Top 100 Wonders
World's Top 1000 Wonders
Site map
My credentials
About my website and criteria
Reader testimonials