Jama Masjid
Travel tips you can trust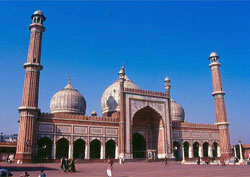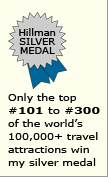 Why the
Jama Masjid of Delhi
is special
This famous, sizeable, 17th century mosque in Old Delhi is simultaneously imposing and magnificent.
Top 5
Jama Masjid
must sees

Courtyard
This huge open-air space accommodates 20,000 worshipers at a time.

Enclosed prayer hall
Prayers in the courtyard face this majestic three-dome prayer hall. It contains the mihrab (a traditional wall niche that points to Mecca).

Minarets
You can climb one of the two 40-meter (130-foot) high minarets for a spectacular bird's eye view of the Jama Masjid and Delhi.

Gates
The East Gate is the grandest and most visually exciting of these red sandstone portals. All three have a broad-beamed flight of steps numbering several dozen.

Relics of Mohammed
Some relics (including what devotees believe to be a hair of the Prophet's beard) are on display in a special chamber.
More
Jama Masjid
tips & insights

Creation
The Jama Masjid was built in 1656 by Shah Jahan, India's most illustrious and extravagant Mughal emperor. He's the same ruler who built or significantly modified three other Hillman Wonder medal winners: Taj Mahal, Red Fort, and Agra Fort.

Name
Jama is "congregational" and masjid is "mosque" in English.

Location in India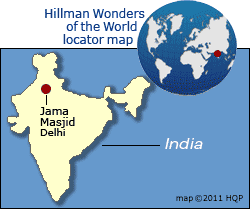 Jama Masjid is on
the famous Golden Triangle tour route


to learn about it.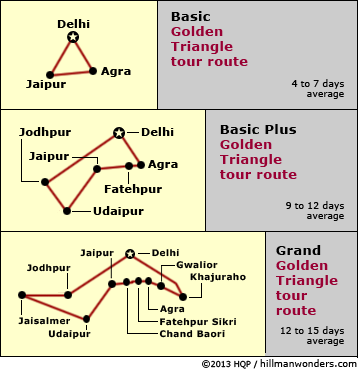 Wonders of India - Top 10 rankings
Basic Hindi phrases for travelers
Indian cuisine
Flying to India
World's Top 100 Wonders
World's Top 1000 Wonders
Site map
My credentials
About my website and criteria
Reader testimonials

World's Top 100 Wonders
World's Top 1000 Wonders
Site map
My credentials
About my website and criteria
Reader testimonials