Palace of the Winds
Travel tips you can trust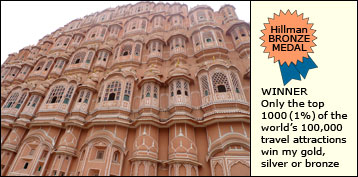 Why the
Palace of the Winds
is special
This pink-sandstone, 1799 building has one of the most artistic and eye-catching facades on earth. The delicate honeycomb-facade has 953 openings.
Palace of the Winds
tips & insights

Why it was built
Maharaja Sawai Pratap Singh in 1799 wanted to provide his royal household women with a place where they could observe processions and daily life in the public streets and bazaar without being seen themselves (which would violate religious precepts).

Scaffolding
Every couple of years or so the facade is masked for a short period in bamboo scaffolding - for the purpose of maintenance. If you happen to come at that time, you can still appreciate the facade's ornamental stonework through the bamboo structure.

Best time
to view and photograph
Morning is best because the facade faces east. The rising sun bathes the facade in golden tones. In the afternoon, the facade is sunless.

Best time to travel
Early October to late March is the most popular period. Summer is the time of scorching heat. And later, your risk monsoons.

Name
The Palace of the Winds gained its name because the occupants inside the structure relished the cool breezes passing through the windows in the hot summer.

Location in India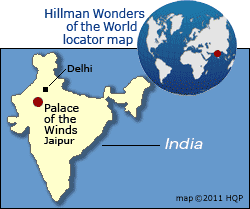 Palace of the Winds is on
the famous Golden Triangle tour route


to learn about it.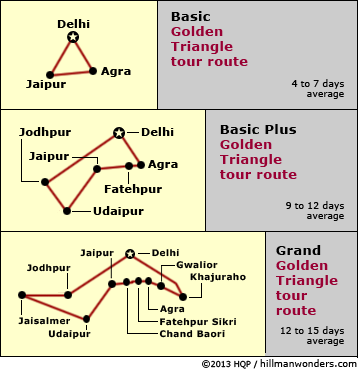 Wonders of India - Top 10 rankings
Basic Hindi phrases for travelers
Indian cuisine
Flying to India
World's Top 100 Wonders
World's Top 1000 Wonders
Site map
My credentials
About my website and criteria
Reader testimonials

World's Top 100 Wonders
World's Top 1000 Wonders
Site map
My credentials
About my website and criteria
Reader testimonials