Lake Palace Hotel
Travel tips you can trust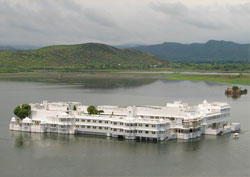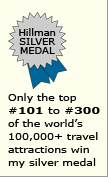 Why the
Lake Palace Hotel
in Udaipur is special
It is one of the world's most luxurious and romantic hotels. This white-marble beauty sits on a tiny island and seemingly floats like a swan on a smooth lake.
Lake Palace Hotel
tips & insights

History in brief
The Lake Palace Hotel building was built in 1746 by the maharaja Jagat Singh II as a summer palace. By the mid 19th century, it had fallen into disrepair. A hundred years later the structure was renovated and converted into the Lake Palace Hotel. Soon it was attracting real and Hollywood royalty.

Reaching the island
A small boat charmingly ferries you from the shore dock to the Lake Palace Hotel and back. But a severe drought can change that, as one did in 2009. The lake level was so low that the water surrounding the hotel disappeared. Ferry boats were useless. Guests were transported to the hotel in four-wheeled vehicles.

Main competition
The Oberoi Udaipur hotel is also deserving and luxurious. But bear in mind, it's neither an island nor a former palace.

Location in India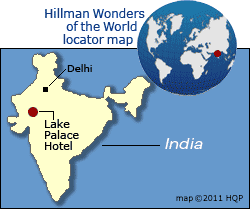 Lake Palace Hotel is on
the famous Golden Triangle tour route


to learn about it.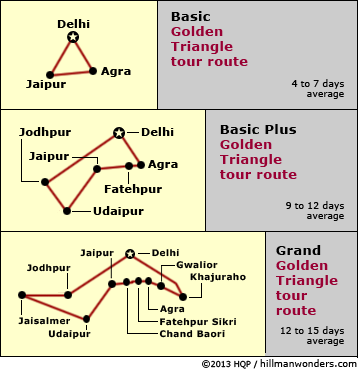 Wonders of India - Top 10 rankings
Basic Hindi phrases for travelers
Indian cuisine
Flying to India
World's Top 100 Wonders
World's Top 1000 Wonders
Site map
My credentials
About my website and criteria
Reader testimonials

World's Top 100 Wonders
World's Top 1000 Wonders
Site map
My credentials
About my website and criteria
Reader testimonials