How to choose an
India Golden Triangle
car and driver service
Travel tips you can trust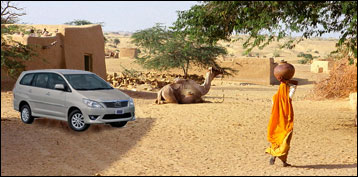 Five questions to ask
before you book a
car and driver service
Note: I use India By Car and Driver (IBCD) as an example of a good company. It has many satisfied clients.

How do travelers
rate your service?


... have few if any positive reviews from travelers like you. And the reviews that are positive may be written by the company itself.


... receive many positive reviews from the social media. For example, readers on the independent Trip Advisor website highly praise India By Car and Driver
Click Trip Advisor to see the reviews
Click India By Car And Driver for its website

What type of
driver will I get?


... might assign you a driver who is not eager to help and please you, who is inflexible, who does not drive safely, and/or who is insufficiently knowledgeable to give meaningful insights during the trip.


... have helpful, courteous, flexible, safe, knowledgeable drivers.

What type of
vehicle will I get?


... sometimes give you a low-grade or worn-out vehicle. This increases the chances of having a hard bumpy ride or a vehicular breakdown. And cabin and trunk space may be cramped.


... give you a quality car such as the roomy, well-built Toyota Innova (see photo above). And your vehicle will be in good condition.

Will I have a
broad choice of hotels?


... sometimes offer a limited choice of hotels.


... can book you in a variety of hotels in your desired price range, be it luxury, mainstream, or budget.

Are its prices
a good value?


... sometimes give you poor value for your money.


... Always give you good value for your money.

for previous page

Top 10 Golden Triangle sights
Best time to go
Best 3 Golden Triangle routes
Private car-driver vs other tour types
How to select a good car-driver company
Best Rajasthan food specialties

Wonders of India - Top 10 rankings
Indian cuisine
Basic Hindi phrases for travelers
World's Top 100 Wonders
World's Top 1000 Wonders
Site map
My credentials
About my website and criteria
Reader testimonials
Background of the above
photo montage by Hamon jp CC BY-SA 3.0

World's Top 100 Wonders
World's Top 1000 Wonders
Site map
My credentials
About my website and criteria
Reader testimonials