Ellora Caves
Travel tips you can trust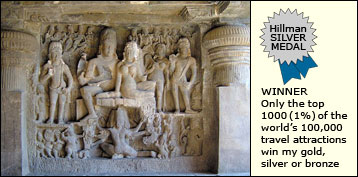 Why the
Ellora Caves
in Maharashta State
are special
This ancient rock-hewn religious complex is the cumulative work of three major faiths. The monasteries and prayer halls are elaborately carved.
Ellora Caves
tips & insights

History in brief
The Ellora Caves were cut out of solid rock from the 6th to 10th centuries.

34 caves
12 are Buddhist, 17 are Hindu, and 5 are Jain. They were created and are numbered in that order. Most are not real caves but outdoor structures chiseled out of the rock.

Best caves

Buddhist - #10
The highlight is the large chamber with a ceiling carved to resemble wood beams (see photo above). The focal point is a large Buddha relief fronting a stupa.

Hindu - #16
It's by far the largest and most important Ellora monument. The Mount Kailash relief of Lord Shiva is its artistic masterpiece. Note: The temple is not a real cave but a fully exposed outdoor building chiseled out of a hillside.

Jain - #32
It's interesting, but not as grand as #10 and #16.

Getting there
The nearest major city (Aurangabad) is 45 minutes away by road.

Elephanta and Ajanta -
India's other two renowned caves
Click Elephanta and Ajanta to read my pages on them.

Location in India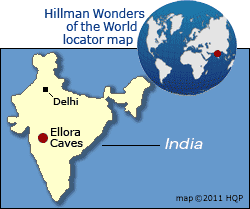 Wonders of India - Top 10 rankings
Basic Hindi phrases for travelers
Indian cuisine
Flying to India
World's Top 100 Wonders
World's Top 1000 Wonders
Site map
My credentials
About my website and criteria
Reader testimonials

World's Top 100 Wonders
World's Top 1000 Wonders
Site map
My credentials
About my website and criteria
Reader testimonials