Elephanta Caves
Travel tips you can trust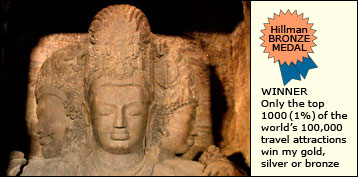 Why the
Elephanta Caves
In Mumbai are special
One of them is renowned for a relief statue of the Hindu god Shiva in his three-headed mode: Creator (facing left in photo), Protector (center), and Destroyer (right).
Elephanta Caves
tips & insights

History in brief
Although the religious purpose of the caves are obvious, no one knows exactly who built them. When is also unknown, but the best guess is between the 6th and 8th century. People stopped worshipping in the caves when the colonial era began.

The caves
Five are of the Hindu, two are of the Buddhist persuasion. The Hindu Cave 1 (also called Mahesammurti or Great Cave) is significantly more important and interesting than the others. It's the one virtually all the visitors come to view, partially because it's home to the three-headed Shiva statue mentioned above.

Name
When Portuguese explorers spotted a sizeable stone elephant on the island, they renamed it "Elephanta".

Getting there
Elephanta Caves are on a small island 10 kilometers (6 miles) from south Mumbai. To reach it, you board a one-hour-long tour-boat ferry from the city's landmark Gateway to India arch.

Ellora and Ajanta -
India's other two famous caves
Click Ellora and Ajanta to open my pages on them.

Location in India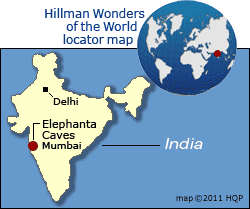 Wonders of India - Top 10 rankings
Basic Hindi phrases for travelers
Indian cuisine
Flying to India
World's Top 100 Wonders
World's Top 1000 Wonders
Site map
My credentials
About my website and criteria
Reader testimonials

World's Top 100 Wonders
World's Top 1000 Wonders
Site map
My credentials
About my website and criteria
Reader testimonials