Gateway to India
Travel tips you can trust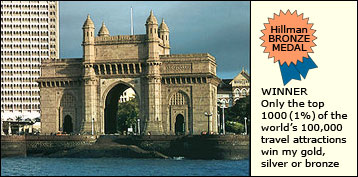 Why the
Gateway to India
in Mumbai
is special
It is one of the most famous, historical, and visually striking triumphal arches in the world.
Gateway to India
tips & insights

History in brief
It commemorates the first visit to India by a British monarch (King George V in 1911). The arch wasn't completed until 1924.
In 1948, a year after India gained its independence, the last contingent of British soldiers left the country through the gate. This made the Gateway to India a symbolic ending of the British Raj colonialism.
Today, The Gateway to India is Mumbai's leading tourist site.

Setting
The 26-meter (85-foot) tall Gateway to India impressively sits on the waterfront of south Mumbai. One side faces the Arabian sea, the other faces the dock from where tour boats ferry tourists to the ancient Elephanta Caves. The other side faces the city, including the magnificent century-old Taj Hotel (which, sadly, was a major target of the infamous 2008 terrorist attack).

Location in India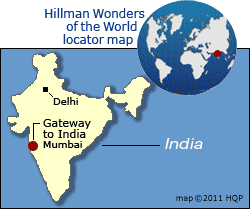 Wonders of India - Top 10 rankings
Basic Hindi phrases for travelers
Indian cuisine
Flying to India
World's Top 100 Wonders
World's Top 1000 Wonders
Site map
My credentials
About my website and criteria
Reader testimonials
Taj Hotels Resorts and Palaces CC BY 3.0

World's Top 100 Wonders
World's Top 1000 Wonders
Site map
My credentials
About my website and criteria
Reader testimonials