Agrigento
Travel tips you can trust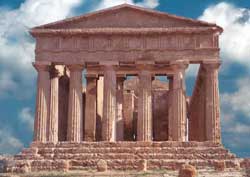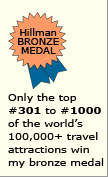 Why Agrigento
in Sicily is special
This ancient city has an array of Greek Doric temples on a ridge overlooking the sea. The Temple of Concordia (see photo) is well-preserved considering its 2,500 year lifespan.
Agrigento
tips & insights

Agrigento
history in brief

6th century BC
Ancient Agrigento was founded by Greek colonists.

It soon became ...
One of the Mediterranean's economic powerhouses. This was when the main temples were built.

Beginning near the turn
of the 3rd century BC
Agrigento experienced a series of ups and downs via invasions and sackings. This lasted about 8 centuries. By the time the Roman Empire collapsed, Agrigento was a fading star.

Agrigento occupies
a vast terrain
And much of this Sicilian wonder remains unexcavated.

Best time
to come
Agrigento is best visited in the spring when temperatures are mild and the landscape is green. Summers are dry and hot. Wear a hat - shade trees are scarce.

Location in Italy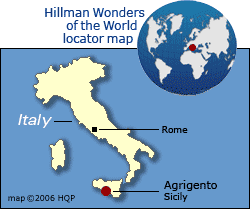 Read my other Italy pages
Wonders of Italy - Complete list
Italy wonder map
Basic Italian phrases
Italian cuisine
Best time to visit Rome

World's Top 100 Wonders
World's Top 1000 Wonders
Site map
My credentials
About my website and criteria
Reader testimonials