Borghese Gallery
in Rome
Travel tips you can trust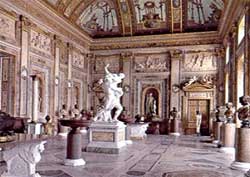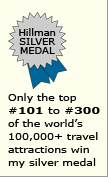 Why the
Borghese Gallery
in Rome is special
The Borghese Gallery is one of the world's finest small art museums. It's a favorite among art insiders. The splendid art collection was initiated in the early 1600s by Cardinal Scipione Borghese. It is housed in his palace-like dwelling.
The highlight is the extensive collection of early marble statues of Bernini.
Borghese Gallery
tips & insights

Museum's most
famous artworks
Two stand out:

Apollo and Daphne
This 1625 statue propelled Bernini into international stardom.

Pauline Borghese
The model for Canova's reclining statue of Venus was Napoleon's sister, the Princess Pauline Borghese. She created a scandal in staid European aristocracy because she posed voluptuously bare from her head down to her upper pelvic area.

Other
renowned artwork
Statuary:

David
Bernini

Rape of Persephone
Bernini
Paintings:

David and Goliath
Correggio

Deposition
Rubens

Sacred and Profane Love
Titian

Make reservations
far ahead
The petite museum can accommodate few people during each 2-hour visitor period. I recommend you make your reservations a month or more in advance. You can obtain them online through various websites.

Is there
an audio tour?
There is one and it's decent, but the live tour guide makes the artwork come to life.

Borghese Museum's
location in Rome
It sits on the edge of Villa Borghese, by far Rome's largest park.

Location in Italy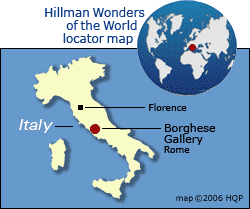 Read my other Italy pages
Wonders of Italy - Complete list
Italy wonder map
Basic Italian phrases
Italian cuisine
Best time to visit Rome

World's Top 100 Wonders
World's Top 1000 Wonders
Site map
My credentials
About my website and criteria
Reader testimonials