Capri
Travel tips you can trust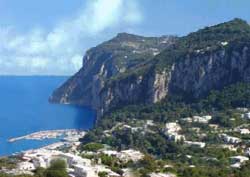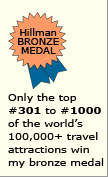 Why Capri
is special
This Italian island is a widely popular getaway for the rich and famous. For the rest of us, it has a gorgeous landscape and setting.
Best months
to visit Capri

May to October
They are the two best months. The weather is nice and the tourist count is relatively low.
Top 7
must sees

Don't miss these:

Blue Grotto
Water inside this coastal cave becomes jewel-like turquoise-blue.

La Piazzetta
The charming "Little Square" in Capri Village is lined with designer boutiques and cafes.

Villa Jovis
The ruins of the palace where Tiberius ruled the Roman Empire for a decade.

Farraglioni
The postcard icon of Capri. Small jagged rock islands poke out of the sea.

Villa San Michelle
Spectacular bird's eyeview of the port and northern coastline.

Anacapri Village
Smaller, less expensive, and more casual than Capri Village.

Marina Grande and Piccola
Two ports on opposite sides of the island.
Correctly pronouncing
the island's name
Many visitors mispronounce Capri by accenting the second instead of the first syllable. It is pronounced CAH-pree, not cah-PREE.

Location in Italy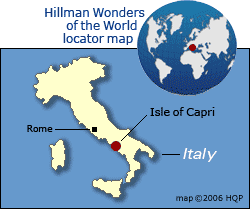 Learn More

for Capri tips - Page 2
Read my other Italy pages
Wonders of Italy - Complete list
Italy wonder map
Basic Italian phrases
Italian cuisine
Best time to visit Rome

World's Top 100 Wonders
World's Top 1000 Wonders
Site map
My credentials
About my website and criteria
Reader testimonials