La Scala Opera
Travel tips you can trust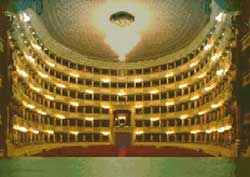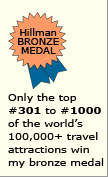 Why the
La Scala Opera House
is special
It is the world's most stunning and renowned opera house. The La Scala Opera House staging and acoustics are splendid - and you can feel the emotions exuded by performers and audiences alike.
La Scala Opera House
tips and insights

Legendary
staging
La Scala Opera has long been known for its grand staging. Singers, musicians and stagehands have sometimes outnumbered the audience. Decades ago when I attended, a real elephant was used in the Grand March of its Aida production.

La Scala Opera is
noted for its critical audienc
The audience is hard to please. Until 2004, there was a cheap-ticket gallery. The occupants would loudly whistle (an insult) if a singer performed poorly.

Construction
history in brief
La Scala Opera House was born in 1778 and has since undergone several major refurbishments and renovations. One was to repair World War II bombing damage. The most recent was completed in 2004.

Tickets are
in high demand
They are scarce and prices are high. If you decide to splurge on a box seat, avoid high-tier ones near the stage. Sight lines are poor.

If you are
ticketless
You can enjoy two other La Scala Opera experiences:

Museum
There is an excellent museum in the La Scala Opera House building. It exhibits opera memorabilia.

Tours
Backstage tours are available. From the stage you see La Scala's most striking feature: the gilded box-seat tiers with crimson trimmings (see photo).

Location in Italy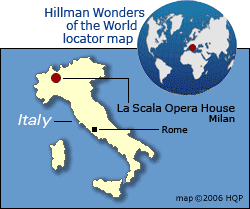 Read my other Italy pages
Wonders of Italy - Complete list
Italy wonder map
Basic Italian phrases
Italian cuisine
Best time to visit Rome

World's Top 100 Wonders
World's Top 1000 Wonders
Site map
My credentials
About my website and criteria
Reader testimonials