Medici Chapels
Travel tips you can trust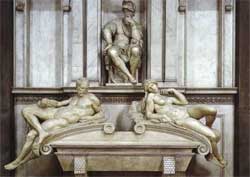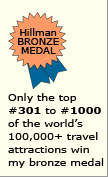 Why the
Medici Chapels
in Florence are special
Some of Michelangelo's greatest sculptural triumphs reside in the New Sacristy room of the Medici Chapels in the Basilica of San Lorenzo in Florence.
Medici Chapels
tips and insights

The highlight
of the Medici Chapels
It is Lorenzo's tomb (see photo) in the New Sacristy room. This marble sculptural work is adorned with a pair of reclining figures named Dusk and Dawn and the seated likeness of Lorenzo abo

Other artistic treasures in
the New Sacristy Room
Directly across from Lorenzo's Tomb is a similar trio of sculptures decorating the sarcophagus of Giuliano. The reclining figures are named Night and Day. Also in this magnificent room is one of Michelangelo's acclaimed Madonna & Child creations.

Princes' Chapel
The other (and much larger) main part of the Medici Chapels is called the Princes' Chapel. It contains the remains of Medicean grand dukes. Some critics say its domed octagonal room is ostentatiously embellished, to the point of being off-putting. Whatever the case, it's certainly not in the same league as Michelangelo's magnificent New Sacristy room, so spend most of your time in the latter space.

The interior and
exterior of the Basilica of
San Lorenzo markedly differ
The Medici Chapels are but a small section of the large Basilica of San Lorenzo, formerly the parish church of the Medici family. Interestingly, while the basilica's interior is opulently decorated, its front exterior facade has remained austerely bare (like a crude blank wall) for centuries.

Ticket tips
Avoid long lines (and possible sell outs) for the Medici Chapels by booking advance time-specific reservations from the museum or on the internet. And, remember that the ticket entrance is not at the basilica's main entrance, but a hiking distance away from it.

Location in Italy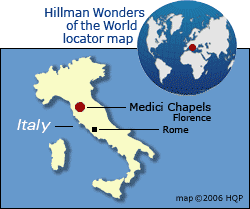 Read my other Italy pages
Wonders of Italy - Complete list
Italy wonder map
Basic Italian phrases
Italian cuisine
Best time to visit Rome

World's Top 100 Wonders
World's Top 1000 Wonders
Site map
My credentials
About my website and criteria
Reader testimonials