Milan Cathedral
Travel tips you can trust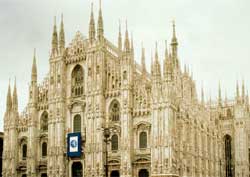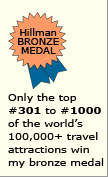 Why
Milan Cathedral
is special
The architectural design of the mammoth Milan Cathedral is strikingly yet delicately ornate.
Milan Cathedral
tips and insights

The artistic glory
of the Milan Cathedral
It is the exterior (see photo). The multitude of spires and statues create a memorable sight as you stand in Milan's main square.

Madonnina statue
The
tallest spire is crowned with the Madonnina statue, a famous Milan icon. It resides about 100 meters (300 feet) above street level.

The interior
The Milan Cathedral interior is not as magnificent as the exterior, but has its appeals. One is experiencing its vastness - the building can accommodate up to 40,000 worshippers. Other interior highlights include the altars, stain-glass windows, ceiling vaults, and soaring pillars.

Visit the roof
You gain a new perspective of the Milan Cathedral. Do this by climbing or taking the elevator up to the roof. You can wander through the church's rooftop forest of marble statues and spires. You will also have a bird's eye view of the square and surrounding cityscape. On clear smog-free days, you can see the white-capped Alps.

Construction
history in brief
A church has been on the site since the 5th century. The cathedral we see today was started in the 14th century and took 500 years to complete.

Location in Italy
Read my other Italy pages
Wonders of Italy - Complete list
Italy wonder map
Basic Italian phrases
Italian cuisine
Best time to visit Rome

World's Top 100 Wonders
World's Top 1000 Wonders
Site map
My credentials
About my website and criteria
Reader testimonials