Orvieto
Travel tips you can trust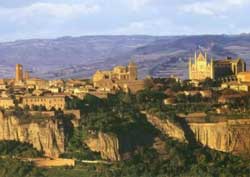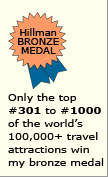 Why Orvieto
is special
This ancient town picturesquely sits on a large, flat outcropping with sheer cliffs - and has a marvelous cathedral.
Orvieto
tips and insights

Orvieto's
crown jewel
It's the Duomo (cathedral). It is especially renowned for its superlative facade that is clad with mosaics, statues, and stained glass - and for its fresco-adorned San Brizio Chapel (which gave Michelangelo some ideas for his Sistine Chapel).

Other Orvieto
points of interest
The town is blessed with many interesting attractions. St. Patrick's Well leads the way. Its deep shaft was dug in the 16th century to provide water in the event of a seize. To speed water-fetching, the architect cleverly designed double-helix style stairways - one for the up, the other for the down mule traffic. You can descend the some 250 stairs (but must climb them back up). Other major tourism draws include a pre-Roman Etruscan necropolis. There is also a Etruscan museum. Orvieto's narrow Medieval streets and alleys provide another adventure.

Ceramics
Orvieto is famous for its ceramics. Some are garish, some not. The subtle one I purchased won a permanent place in my home.

What created the
outcropping that
Orvieto sits on
The outcropping is a tuff, a formation of volcanic ash compressed through geological time. Erosion gave it its upside-down elongated tub shape. Even today the tuff is eroding slowly. However, major conservation engineering projects have decelerated the natural process.

Location in Italy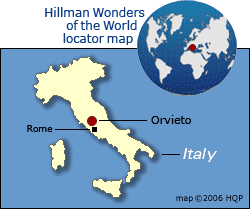 Read my other Italy pages
Wonders of Italy - Complete list
Italy wonder map
Basic Italian phrases
Italian cuisine
Best time to visit Rome

World's Top 100 Wonders
World's Top 1000 Wonders
Site map
My credentials
About my website and criteria
Reader testimonials