Piazza della Signoria
Travel tips you can trust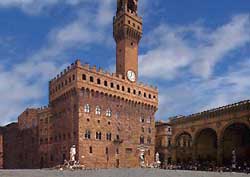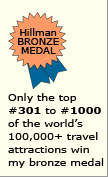 Why the
Piazza della Signoria
in Florence is special
Besides being the historical political heart of Florence, the L-shaped Piazza della Signoria is especially renowned for two attractions:

Logia dei Lanzi

Palazzo Vecchio
Piazza della Signoria
tips & insights

Logia dei Lanzi
The Logia is the covered arched outdoor structure on the right side of the photo. Famous sculptures (some originals, some copies) populate it and the adjoining piazza. The famous artworks include Cellini's "Perseus" and Giambologna's "The Rape of the Sabine Women". There's a replica of Michelangelo's David in the open-air piazza (the original statue once stood here),

Palazzo Vecchio
This building's bell tower (see photo) has long been one of Florence's prominent skyline icons. The Palazzo Vecchio's office space has been an integral part of local government for centuries. Today, it houses the city council. Some areas, including the courtyard, are open to the public and are worth exploring. The Palazzo Vecchio is also properly called the Palazzo della Signoria, from which the Piazza della Signoria got its name.

Other
Piazza della Signoria
tourism draws
Outdoor cafes and restaurants line parts of the piazza. Visitors relish these settings for leisurely meals while the people watch and take the weight of their tired feet.
A plaque marks the spot where the famous friar, reformer and Vatican-decreed heretic Savonarolawas burned at the stake as a heretic in 1498.

Location in Italy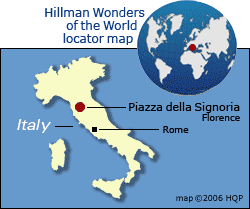 Read my other Italy pages
Wonders of Italy - Complete list
Italy wonder map
Basic Italian phrases
Italian cuisine
Best time to visit Rome

World's Top 100 Wonders
World's Top 1000 Wonders
Site map
My credentials
About my website and criteria
Reader testimonials