Ponte Vecchio
Travel tips you can trust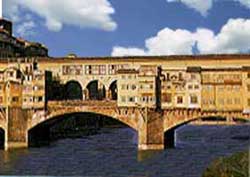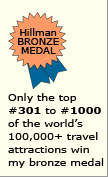 Why the
Ponte Vecchio
in Florence is special
It is the world's most photogenic bridge. Shops line both sides, forming a covered passageway between the banks of the Arno River in Florence, Italy.
Ponte Vecchio
tips and insights

And evolving
bridge
Ponte Vecchio aptly means "Old Bridge" in Italian. It was built in 1345 after the previous bridge had been swept away by the flooding river.
Originally, the bridge buildings housed butcher shops and greengrocers. This changed in the 15th century when the government decided that such enterprises were unglamorous for Ponte Vecchio's image. The food merchants were soon replaced with gold and silversmiths. The jewelry trade continues to this day to be a mainstay on the bridge.

Came close
to being destroyed
Ponte Vecchio was almost blown up in World War II by the retreating Germans, who ordered the destruction of all Florence bridges to slow down the advancing Allied armies. At the last minute, the 600-year-old Ponte Vecchio was spared for posterity's sake.

Why did the
Ponte Vecchio lose
its Hillman Gold Medal?
The Ponte Vecchio once earned my Gold Medal. Then, it gradually dropped in medal status to Bronze as the atmospheric traditional exteriors of the shops were contemporized.

Location in Italy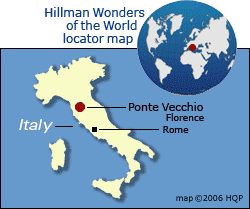 Read my other Italy pages
Wonders of Italy - Complete list
Italy wonder map
Basic Italian phrases
Italian cuisine
Best time to visit Rome

World's Top 100 Wonders
World's Top 1000 Wonders
Site map
My credentials
About my website and criteria
Reader testimonials