San Gimignano
Travel tips you can trust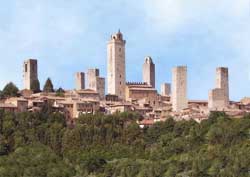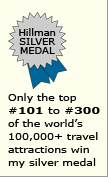 Why
San Gimignano
is special
Striking medieval towers jut high into the sky over the Tuscan hilltop town of San Gimignano. They have captured the imagination of travelers for centuries.
San Gimignano
tips and insights

Why the towers
were built
San Gimignano residents built them as living quarters, defensive structures, and symbols of wealth (the message was "the higher the tower, the richer our family")

Tower count
There were once 72 of these structures. Today, 14 remain. The tallest sprouts up 52 meters (172 feet).

San Gimignano is more
than its soaring pinacles
Be sure to explore the town's walls and gates - and its narrow side streets. There are also museums, including one displaying torture machines.

San Gimignano
is popular
Several million tourists visit San Gimignano each year. Nearly all come as day-trippers from May to September. They tightly blanket the streets.

How to avoid
the crowds
View this wonder early in the morning and late in the afternoon to miss the tour bus crowds. Or come during the cooler months.

Location in Italy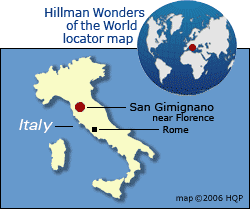 Read my other Italy pages
Wonders of Italy - Complete list
Italy wonder map
Basic Italian phrases
Italian cuisine
Best time to visit Rome

World's Top 100 Wonders
World's Top 1000 Wonders
Site map
My credentials
About my website and criteria
Reader testimonials