Taormina
Travel tips you can trust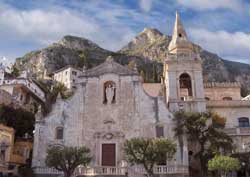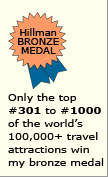 Why Taormina
is special
This fashionable small resort town overlooks the blue Mediterranean Sea. Taormina is well-known for its ancient amphitheatre.
Taormina
tips and insights

The Amphitheatre is
major tourism draw
It sits on a high hill with fantastic views of Taormina town and the rugged Mediterranean coastline. On a clear day, you san see Mt. Etna. (This famous volcano is an hour's drive away, making it an easy day trip.)
Today, cultural performances are staged in the amphitheatre. The acoustics score good marks.
The Taormina amphitheatre is named the Greek Theatre. That's a misnomer. What you see now is mainly the well-preserved ruins of a 2nd century AD Roman theatre built on top of the 3rd century BC Greek theatre.

Town
Taormina town sits high above the sea - and has some interesting restaurants, festivals, and streetscapes. Despite the many tourists it attracts, Taormina somehow retains its pleasant, laid-back ambiance.

Beach
A cable car transports you to the beach, which is pebbly, but is surrounded by an attractive vegetation-clad landscape.

Greek and
Roman heritage
Taormina was a Greek colony (founded around 400 BC) before becoming a Roman colony.

Location in Italy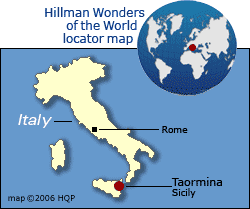 Read my other Italy pages
Wonders of Italy - Complete list
Italy wonder map
Basic Italian phrases
Italian cuisine
Best time to visit Rome

World's Top 100 Wonders
World's Top 1000 Wonders
Site map
My credentials
About my website and criteria
Reader testimonials