National Museum
of Anthropology
Travel tips you can trust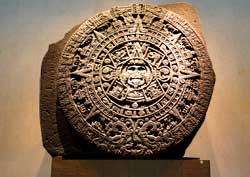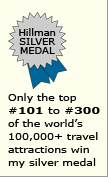 Why the
National Museum
of Anthropology
is special
It is one of the world's finest museums. Many of the pre-Hispanic archaeological treasures of Mexico are artfully on display.
National Museum
of Anthropology
tips and insights

Museum has
two sections
Each section covers a distinct time period of Mexico's culture and history.

Ground floor
Focuses on pre-Hispanic objects.

Second floor
Concentrates on contemporary ethnic life.
It is mainly the ground floor section that earned this institution its international acclaim.

Top 3
exhibition halls
The National Museum of Anthropology has about two dozen exhibition rooms, too many to explore in one day. It's best to be selective.
To get you started, here are the three most interesting halls along with their star items:

Mexica Hall (Aztec)
Study upclose the famous 3.5-meter (12-foot) high Sun Stone. See photo above.

Teotihuacan Hall
Teotihuacan Hall
View a colorful replica of a sculpted wall of the Quetzalcoatl Temple.

Maya Hall
See the Tomb and burial artifacts of Pacal, the great ruler of Palenque.

"Aztec Calendar"
The famous Sun Stone (see photo above) is popularly known as the Aztec Calendar. That's a misnomer because the huge stone portrays the four prior universes of the Aztec theology.
Learn More

for
National Museum of Anthropology - Page 2
Learn my other
Mexico tips and insights
Wonders of Mexico
Acapulco
Calakmul
Chichen Itza
Copper Canyon
Mitla
Monte Alban
Natl Mus of Anthropology
Palenque
Parque la Venta
San Miguel de Allende
Taxco
Teotihuacan
Uxmal
Related pages
Mexico wonders - Top 10 rankings
Mexico wonder map
Basic Spanish phrases for travelers
Mexican cuisine
Visit Mexico - Official tourism website

World's Top 100 Wonders
World's Top 1000 Wonders
Site map
My credentials
About my website and criteria
Reader testimonials