SeaDream watersports
and shore excursions
Cruise tips you can trust

Marina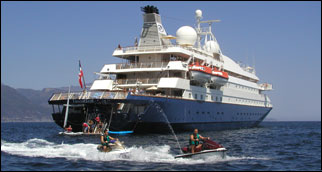 The retractable watersports marina on the rear of the ship is popular. When the SeaDream is moored (not docked) in port, you use the marina for kayaking, water skiing, jet skiing, banana boating, sunfish sailing, snorkeling, or simply swimming. The SeaDream provides the needed equipment gratis (including a powered Zodiac to pull water skiers). All guests have opportunities as use is rotated.

Champagne & Caviar Splash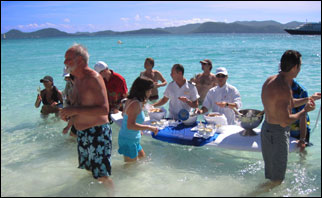 This is the iconic SeaDream beach party. The event takes place beginning around noon on a private white-sand beach. You are served champagne and caviar that have been placed on a floating tableclothed surfboard. Both you and the servers stand in waist-deep water. You're in a swim suit, but the servers are in uniforms, which become drenched and lend a comic touch. The Splash event kicks off a fun afternoon of sunbathing, swimming, snorkeling, and beach barbecuing.

Other island activities
They include:

Fee-based group shore excursions
Examples: Island tours, off-road ATV trips, and outings to beaches for swimming or snorkeling.

Fee-based custom shore excursions
The activities director will arrange an excursion tailored to your interests.

Free shore excursions
An officer (including the captain) or crew member sometimes leads a tour of a particular facet of an island that appeals to him or her. It could be, for example, a visit to the local food marketplace, a trip to a special snorkeling site, or an insider's view of a port town.

Mountain bikes
If you reserve one ahead of time, there will be a mountain bike at the dock to let you explore an island's back roads and trails. It's free.

Segways
For a modest fee, you can ride a self-balancing Segway on a dock or pier. If you haven't ridden a Segway, this should be an unforgettable experience. Reserve early for convenient times.
Learn my other
SeaDream cruise tips & insights
Why the SeaDream yacht is special
Onboard activities & spaces
Watersports & shore excursions
SeaDream dining
Itinerary insights
SeaDream itinerary maps
Deck plans
Cabin pictures & layouts
Crew photo gallery
SeaDream fact sheet
Marine photo copyrighted by Bob Lepisto and SeaDream Yacht Club and is used with permission. Beach photo ©2012 HQP / hillmanwonders.com
Click Seadream Yacht Club to visit its website.

World's Top 100 Wonders
World's Top 1000 Wonders
Site map
My credentials
About my website and criteria
Reader testimonials