More
Hagia Sophia
tips and insights

How to pronunce
Hagia Sophia = HEY-yah soh-FEE-ah

Optical illusion
Forty windows ring the base of the 16-story-high dome, making it seem to upward-gazing viewers 16 floors below that the dome is levitating.

Huge
Photos could never give us a sense of that illusion or of the hugeness of the Hagia Sophia's internal space. We have to see this 1400-year-old wonder in Istanbul, Turkey firsthand.

Physical condition
Parts of the Hagia Sophia building are currently in regrettable condition due to centuries of neglect. A major effort is afoot to save and restore this masterpiece of the ages.

Blue Mosque
Don't miss the Blue Mosque, a neighbor of the Hagia Sophia. Its exterior architecture is elegantly beautiful. It's a working mosque, but non-Muslims can visit it during non-prayer periods.

Location in Turkey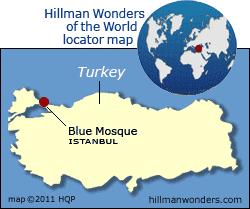 Learn More

for first Hagia Sophia page
Know these tips and insights
In Istanbul
Basilica Cistern
Blue Mosque
Dolmabahce Palace
Grand Bazaar
Hagia Sophia
Topkapi Palace
In other Turkey areas
Antalya
Bodrum
Cappadocia
Divrigi
Ephesus Ruins
Hierapolis
Mount Ararat
Nemrut Dagi
Pamukkale
Pergamon Acropolis
Ruins of Troy
Home page
Turkey Wonders - Top 10 rankings
Turkish Culture and Tourist Office

World's Top 100 Wonders
World's Top 1000 Wonders
Site map
My credentials
About my website and criteria
Reader testimonials