Dutch Canals
Travel tips you can trust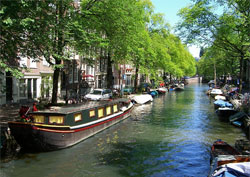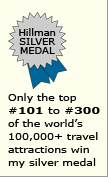 Why
Dutch canals
are special
Holland has a vast network of centuries-old canals that are still used to drain water from below-sea-level farmlands and to transport people and cargo. They pass through tranquil country-scapes and Amsterdam's photogenic rows of city mansions.
Canals of Amsterdam
tips and insights

Best 3 Canals
for sightseeing
They are the Herengracht, Keizergracht and Prinsengracht. These 17th-century waterways form concentric half circles around Amsterdam's inner core.
The Herengracht is especially noted for its Golden Bend stretch. Both banks sport grand houses built by rich merchants.

Boats
A half-day canal sightseeing outing is a must to enjoy the squat picturesque bridges and the 17th-century residences and commercial buildings lining the narrow canals. These tours take you back in time.
You can also book accommodations on a houseboat docked along the banks.
And, from Amsterdam, you can take a river cruise as far as the Black Sea. Click Rhine/Danube cruise to read my web page on that all-water journey.

More pointers

Photographing
Bridges generally offer the best vantages for capturing the canals.
Sunny midday is ideal for shooting because the overhead solar light bathes the canyon-like setting.

Parades
Two famous annual parades - Queen's Day and Gay Pride - use the canal as a street. Hundreds of thousands of people line the banks and bridges to view the passing parade boats. The events take on a festive carnival spirit.

Related web pages
Canals are just one of the nation's three primary flood-management methods. Click Dutch Dikes and Dutch Windmills to read my pages on those two wonders.
Know these Holland tips and insights
Holland medal winners
Aalsmeer Flower Auction
Dutch Canals
Dutch Dikes
Dutch Windmills
Holland Cheese Markets
Holland Museums
Keukenhof Gardens
Madurodam Miniature Vllg
Royal Palace - Amsterdam
Also read
Top 3 Holland Wonders
Dutch phrases for travelers
Canal photo by Phault - CC BY 2.0

World's Top 100 Wonders
World's Top 1000 Wonders
Site map
My credentials
About my website and criteria
Reader testimonials