Keukenhof Gardens
Travel tips you can trust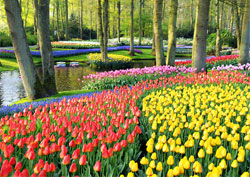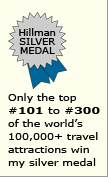 Why
Keukenhof Gardens
is special
Keukenhof Gardens has been called the "greatest flower show on Earth". It's certainly the largest - and is now a magnet for flower lovers everywhere.
Keukenhof Gardens
tips and insights

Quick facts

Keukenhof Gardens covers 32 hectares (80 acres).

Besides the outdoor floral beds, there are greenhouses and themed exhibition pavilions.

About 7 million bulbs are planted each year.

The site is open to the public for only 9 weeks, from late March to late May.

It attracts an average of nearly 100,000 visitors per week.

When to come
The last two weeks of April are best time because the greatest variety of plants are simultaneously abloom then.
Every day is crowded, but holidays and weekends are worst.
Avoid sizable crowds plus vehicular arrival and departure delays by being there when the gates open at 8:00 am - or at very least before 9 am. Alternatively, plan to stay late (it's still daylight when the venue closes at 7:30 pm).
If your schedule is flexible, wait for a sunny-day forecast. The outdoor flowers will look and photograph their best.

Day trip
Keukenhof Gardens is an hour from Amsterdam if traffic is light.

History in brief
It began in the 15th century as a herb garden - hence its name Keukenhof ("kitchen garden). In the 18th century, it was extensively re-landscaped. In 1949, after some major changes, it emerged into its current form.

Location in Holland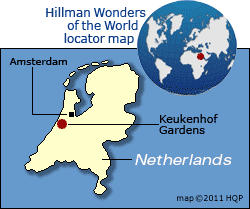 Know these Holland tips and insights
Holland medal winners
Aalsmeer Flower Auction
Dutch Canals
Dutch Dikes
Dutch Windmills
Holland Cheese Markets
Holland Museums
Keukenhof Gardens
Madurodam Miniature Vllg
Royal Palace - Amsterdam
Also read
Top 3 Holland Wonders
Dutch phrases for travelers
Garden photo ©Keukenhof Gardens

World's Top 100 Wonders
World's Top 1000 Wonders
Site map
My credentials
About my website and criteria
Reader testimonials