Madurodam
Miniature Museum
Travel tips you can trust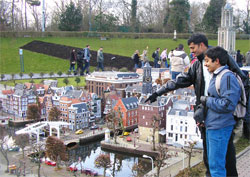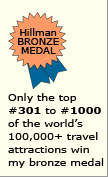 Why the
Madurodam Miniature Museum
is special
Over a hundred famous Holland landmarks and famous tourist attractions are fastidiously presented in miniature on a 1 to 25 scale in an outdoor setting near The Hague city.
Madurodam Miniature Museum
tips and insights

What you see
There are bridges, canals, castles, churches, houses, palaces, ships, trains and human figures, to mention but a few miniature models. What's more, many of them are engrossingly animated, as are the railroad, jumbo jets, and amusement park.

Admission fee
Madurodam Miniature Museum tickets are relatively high, but not if you enjoy the experience, as most (but not all) visitors do.
Remember, the organization must charge the price they do to fund not only salaries, but also the expensive construction and upkeep on the detailed structures and equipment exposed to the elements 24/7 for 365 days a year.
Who will enjoy the visit the most? Certainly kids and model-construction enthusiasts. It also helps if you are familiar with the Dutch structures you see.

History in brief
Madurodam Miniature Museum was built in 1952 in memory of George Maduro, a Second World War resistance fighter who died a POW in the Nazi's Dachau concentration camp.

When to come
It's open year-round. Being outdoors, mid-spring to mid-fall days are best (try to come early or late in the day when the site is not teeming with tour-bus crowds).

Location in Holland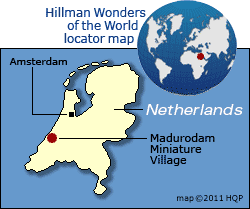 Know these Holland tips and insights
Holland medal winners
Aalsmeer Flower Auction
Dutch Canals
Dutch Dikes
Dutch Windmills
Holland Cheese Markets
Holland Museums
Keukenhof Gardens
Madurodam Miniature Vllg
Royal Palace - Amsterdam
Also read
Top 3 Holland Wonders
Dutch phrases for travelers
Photo by Sanjaykattimani - CC BY-SA 2.5

World's Top 100 Wonders
World's Top 1000 Wonders
Site map
My credentials
About my website and criteria
Reader testimonials