Special tips for Honeymoon cruisers
Cruise pointers you can trust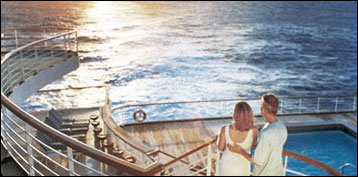 The tips below are specifically for honeymooners. For general cruise tips that apply to lovers in general, read the Mistakes Romantic Cruisers Make web page in my Romantic Cruise section.

Inform the staff
Be sure the ship's hotel director and cruise director know you are on your honeymoon. Don't assume they know. And even if they do, the act of your personally telling them reinforces your status in their minds. Also discreetly share the news with your cabin attendant, waiters, bartenders, and other staffers. This increases service quality because it builds a stronger, more personalized bond between you and them.

Pre- and post-cruise stays
Some newlyweds spend a couple of days or so at a resort near the ship's embarkation or debarkation port. It's a good idea because it enhances the honeymoon experience. The pre-cruise option makes the most sense because it it provides insurance against a flight delay, cancellation, or misconnection.

Documents
If your marriage is going to change your last name but your passport and driver's license currently bear your maiden name, be aware of a potential pitfall. The name disparity could create a serious problem for you at the airport check-in counters and security gates (it's possible they won't let you board the plane). That's why it's wise to bring your marriage certificate and to have your airline ticket in your maiden name. And sometimes it's smart do the same for your cruise documents.

Honeymoon cruise advice
Honeymoon - Special tips
Honeymoon - Weddings tips
Honeymoon - Home page
Romantic cruise advice
Best 5 cruise destinations
Best 5 cruise ships
Mistakes romantic cruisers make
Paul Gauguin Cruises
CLIA - Industry's cruise association

World's Top 100 Wonders
World's Top 1000 Wonders
Site map
My credentials
About my website and criteria
Reader testimonials