Honeymoon cruise
weddings
Cruise tips you can trust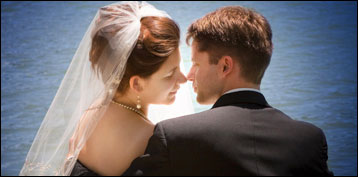 Cruise wedding
tips & insights

Why you should
consider a cruise wedding
It gives you a seamless transition from wedding to honeymoon. You don't have to contend with long airport security lines, boring waits to board the flight, and cramped/crowded airplane cabins. You also don't have to worry about missed connections or flight cancellations delaying the start of your honeymoon.

Two basic types
of cruise weddings
Both are growing in popularity.

Shipboard wedding
They take place on the ship while it is at sea or in port. The venue can be a chapel (if one exists) or in a function room such as the boat's library.

Destination wedding
They take place on shore at either the embarkation port or at a mid-cruise port. Your wedding guests either book the cruise or stay ashore. The venue can be a church, resort, castle, villa, sandy beach, wherever. Some adventurous couples have exchanged vows on remote glaciers, hot air balloons, and underwater using diving gear.

Cruise wedding coordinators
Many cruise lines have them. If you like, they will make your shipboard or destination wedding hassle-free by handling nearly all the arrangements for your shipboard or destination wedding. This embraces entertainment, photographer, flowers, cake, champagne reception, tux rentals, marriage conductor (perhaps the captain), flights, and land accommodations for your non-sailing guests.

Cost
Cruise wedding packages vary from about $1,000 for a simple ceremony up to well into 5-digits for a large and lavish one. Those figures do not include airline and cruise tickets. When judging the cost, remember that the average American land-based wedding is approaching $30,000.

Related programs
Cruises are ideal for vow renewal ceremonies and anniversary celebrations.

Proposal program
The Princess cruise line's staff will record a video of the engagement seeker making the proposal, without letting the other party get wind of it. Later, that video is shown on a large outdoor movie screen. Everyone in the audience sees it, including the unsuspecting target.

Honeymoon cruise advice
Honeymoon - Special tips
Honeymoon - Weddings tips
Honeymoon - Home page
Romantic cruise advice
Best 5 cruise destinations
Best 5 cruise ships
Mistakes romantic cruisers make
David Ball
CLIA - Industry's cruise association

World's Top 100 Wonders
World's Top 1000 Wonders
Site map
My credentials
About my website and criteria
Reader testimonials