Mistakes
romantic cruisers make
and how to avoid them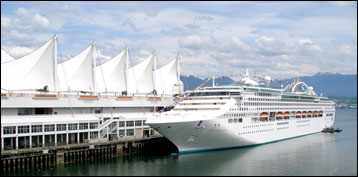 Five avoidable
romantic cruise mistakes

Booking the wrong period
Because your getaway is romance oriented, you don't want a ship full of screaming children. Ditto for loud partying collegians. My advice: Avoid school holiday and vacation periods (if your wedding plans allow it).

Not asking your travel
agent about the likely profile
of your fellow passengers
You don't want a ship dominated by a large-corporate event - attendees tend to be loud. And a boat full of elderly passengers doesn't enhance the romantic setting for a young couple.

Booking a standard cabin
Standard ship cabins are considerably smaller than hotel rooms. A tight-spaced environment can negatively affect the romantic mood. So unless you are on a severe budget, get a larger cabin and one with a private balcony. And while you're at it, sail a luxury ship. They're smaller and more intimate.

Not making restaurant
reservations ahead of time
for tables for two
Many ships (especially the big ones) have few tables for two. So try to make your reservations specifically for a table for two directly with the maitre d' soon after you board. Otherwise, you might be forced to dine at a large table with strangers, which is not exactly romantic.

Not learning the basics
if you are a cruise novice
Learn them in my 20-page online Cruise guide. It gives you candid advice on

Cabin selection

Shore excursions

Dining

Etiquette

Ship communications

And more.

Romantic cruise advice
Best 5 cruise destinations
Best 5 cruise ships
Mistakes romantic cruisers make
Honeymoon cruise advice
Honeymoon - Special tips
Honeymoon - Weddings tips
Honeymoon - Home page
CLIA - Industry's cruise association

World's Top 100 Wonders
World's Top 1000 Wonders
Site map
My credentials
About my website and criteria
Reader testimonials