Castel Sant'Angelo
in Rome
Travel tips you can trust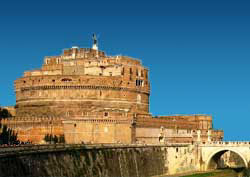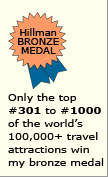 Why
Castel Sant'Angelo
is special
The cylindrical 19-century-old Castel Sant'Angelo is one of Rome's most striking landmarks and has an intriguing history.
Top 5 attractions of
Castel Sant'Angelo

My list
What not to miss:

Architecture
The 5-story building has an interesting design, inside and out. For instance, you can walk up a long, spiraling indoor ramp that abuts the circular outer wall.

Papal apartments
They were luxuriantly decorated during the Renaissance.

Prison cells
High-profile political prisoners were incarcerated (and sometimes tortured and executed) during the Castel Sant'Angelo's papal period.

Military equipment
Ancient tools of war including armor and weaponry are on display.

Rooftop terrace
Enjoy a panoramic view of Rome and the Tiber River. There's a small cafe for food, drink and relaxing.
How to
avoid the crowds

Right time
Be there in the morning when the venue opens. As a bonus, the low-angled sunlight will enhance your photos.

Location in Italy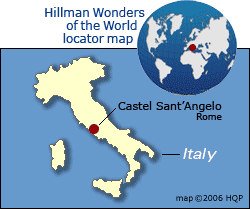 Learn More

for Castel Sant'Angelo - Page 2
Read my other Italy pages
Wonders of Italy - Complete list
Italy wonder map
Basic Italian phrases
Italian cuisine
Best time to visit Rome

World's Top 100 Wonders
World's Top 1000 Wonders
Site map
My credentials
About my website and criteria
Reader testimonials