Positano
Travel tips you can trust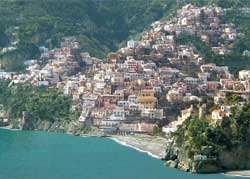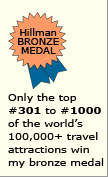 Why Positano
on the Amalfi Coast
is special
This picture-perfect town of colorful houses bejeweled with bougainvillea flowers cascades down a steep hillside to the sea.
Positano
tips and insights

How Positano
evolved
It transformed itself from a sleepy fishing village into an artist's & writer's colony into a chic seaside Italian resort town in less than a century.

What is Positano
like in the summer?
It teems with tourists patronizing the chic boutiques and cafes. The beaches, unfortunately, are gray-volcanic pebbly.

Wear
comfortable shoes
Positano has a lot of steep steps winding through a maze of narrow passageways (though a bus circuit gives your feet a rest).

Positano is a good
base for daytrips
You can use the town for exploring:

Amalfi Coasat
Positano is part of the Amalfi Coast, which is a Hillman Wonder Gold Meal winner. Click this link for my web pageon it:

Capri
You can reach this island by ferry or fast hydrofoil. The voyage provides a splendid view of the Amalfi coastline. Click this link to read my Capri web page:

Montepertuso
Drive up to the nearby hilltop town of Montepertuso for a breathtaking view of the Amalfi Coast. Your trip will also let you see a mountain spur sporting a colossal see-through hole.

Location in Italy
Read my other Italy pages
Wonders of Italy - Complete list
Italy wonder map
Basic Italian phrases
Italian cuisine
Best time to visit Rome

World's Top 100 Wonders
World's Top 1000 Wonders
Site map
My credentials
About my website and criteria
Reader testimonials