Krakow
Market Square
Travel tips you can trust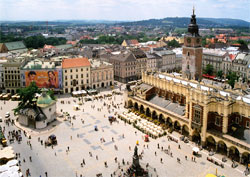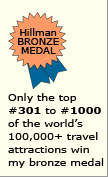 Why
Krakow Market Square
is special
It is one of the world's largest and most captivating squares.
Top 5
Krakow Market Square
attractions

Cloth House
Architecturally stunning (see photo's middle right). Dates back to the 16th century. Once was a trading center, today it's a museum and a complex of indoor stalls selling gifts and souvenirs.

Perimeter buildings
Merchant houses and other photogenic, centuries-old structures line Krakow Market Square.

St Mary's Church
A 14th century creation. Striking interior. Pope John II served as a cardinal and archbishop here. Note: The photo above was taken from one of its towers.

St Adalbert Church
This small structure goes back to the 11th century.

Town Hall Tower
It's all that remains of the 16th century town hall complex.
More
Krakow Market Square
tips and insights

Popularity
It's Poland's best-appreciated tourist destination.

Summertime
Cafes and restaurants spill out into Krakow Market Square, as do touts, flower sellers, and street entertainers. The space is large enough not to be overrun with tourists.

Underground
Some of the buildings have cellars that have been converted to lively pubs, clubs, cafes, restaurants, among other enterprises.

Nearby wonders
Just down Grodska Street is Wawel Castle. A half-hour out of town is Weilicska Salt Mine. Both are Hillman Wonders medal winners.

World War II
Krakow was more fortunate than many large Polish cities. It suffered only modest war damage.

Location in Poland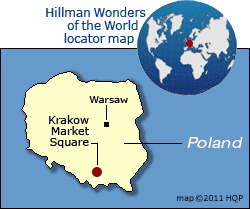 Know these Poland tips and insights
Poland medal winners
Gdansk Old Town
Krakow Market Square
Lublin Old Town
Malbork Castle
Warsaw Market Square
Wawel Castle & Cathedral
Wielicska Salt Mine
Zamosc Old Town
Also read
Poland Wonders - Rankings
Basic Polish phrases
Polish National Tourist Office

World's Top 100 Wonders
World's Top 1000 Wonders
Site map
My credentials
About my website and criteria
Reader testimonials