Warsaw
Market Square
Travel tips you can trust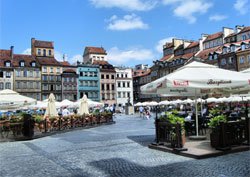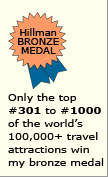 Why the
Warsaw Market Square
is special
It's a living urban museum that fairly accurately captures how the scenic Warsaw Market Square looked long ago.
Warsaw Market Square
tips and insights

Second World War
Many old town buildings (as well as many others in the city) were destroyed in WWII. What was left was mainly rubble.

Reconstruction
After the war, the Poles rebuilt Warsaw Market Square, using old photographs and drawings to properly replicate it for both heritage and tourism sake.
The architects paid close attention to the 17th century. This was the time when the building facades lining the plaza changed from gothic to renaissance style.

More pointers

Popularity
It's easily the city's most-visited tourist site.

Pride of place
A tall 19th century bronze statue of a mermaid with poised uplifted sword and shield heroically stands in the middle of the square. The mermaid is the city's symbol.

Historic Museum
It's on the square. Be sure to see its commendable film illustrating the WWII devastation and subsequent rebuilding.

Side streets
Don't limit your sightseeing to the plaza. Also explore Old Town's picturesque cobblestoned side streets.

When to come
Late spring to early fall is best. The square pulses with street entertainers, outdoor cafes, and more. But try to avoid the peak summer season as well as holidays when visitors overfill the space. Or, at least, come early or late in the day when tour bus crowds are gone.

Location in Poland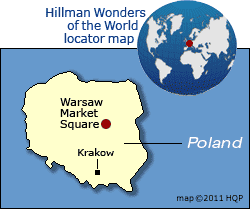 Know these Poland tips and insights
Poland medal winners
Gdansk Old Town
Krakow Market Square
Lublin Old Town
Malbork Castle
Warsaw Market Square
Wawel Castle & Cathedral
Wielicska Salt Mine
Zamosc Old Town
Also read
Poland Wonders - Rankings
Basic Polish phrases
Polish National Tourist Office

World's Top 100 Wonders
World's Top 1000 Wonders
Site map
My credentials
About my website and criteria
Reader testimonials