Lublin Old Town
Travel tips you can trust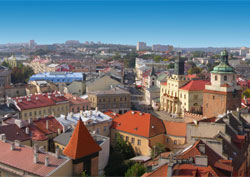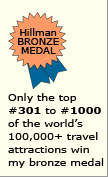 Why
Lublin Old Town
is special
It is a well-preserved medieval town with many interesting historical structures.
Top 5
Lublin Old Town
sites
Lublin has several dozen tourist draws. These are the most popular (listed alphabetically):

Castle
Highlights are the 13th century round castle keep and the Holy Trinity Chapel. The latter has precious Russo-Byzantine frescoes dating back to the 15th century. Climb the chapel's tower for a good view of the city.

Crown Tribunal
This former judicial building was erected in the 16th century in Market Square. Unfortunately, subsequent renovations made the Crown Tribunal visually incongruous with the older structures lining the square.

Krakow Gate
It's the prime icon of Lublin. Today, it consists of two sections built five centuries apart. A yellowish 18th century green-domed tower sits on top of the boxy 13th century red brick gate building. (See right side of photo above.)

Lublin Cathedral
This 17th century baroque church is noted for its wall and ceiling frescoes.

Majdanek
A former Nazi concentration camp, now a museum. Visiting it is a moving, heartrending experience that gives you keener insight into the dire deaths and sufferings of ten of thousands of the Jewish and non-Jewish inmates.
More
Lublin Old Town
tips and insights

How to pronounce
Lublin = lubb-linn (rhymes with "pub" and "pin")

Sightseeing mode
It's best explored on foot because it's small, compact, and closed to unauthorized vehicular traffic.

Capital
The city was twice briefly the capital of Poland (1918 and 1944).

Location in Poland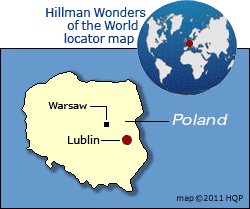 Know these Poland tips and insights
Poland medal winners
Gdansk Old Town
Krakow Market Square
Lublin Old Town
Malbork Castle
Warsaw Market Square
Wawel Castle & Cathedral
Wielicska Salt Mine
Zamosc Old Town
Also read
Poland Wonders - Rankings
Basic Polish phrases
Photo by Lukaszprizy - CC BY-SA 3.0
Polish National Tourist Office

World's Top 100 Wonders
World's Top 1000 Wonders
Site map
My credentials
About my website and criteria
Reader testimonials