Wavel Castle
and Cathedral
Travel tips you can trust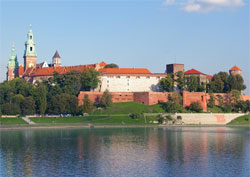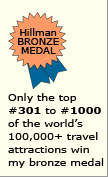 Why
Wawel Castle
and Cathedral
are special
These Krakow landmarks rate high in both historical and sightseeing value.
Wawel Castle
and Cathedral
tips and insights

Castle
It royally sits on a hill overlooking Krakow city and the Vistula River. Wawel Castle dates back to the 11th century and has been damaged, reconstructed, and expanded a number of times. Today, it's in good condition.
Top 2 highlights:

Royal Apartments and State Rooms
They are furnished with period furniture. The Flemish tapestries are the star attraction.

Courtyard
This large space is lined with remarkable balcony architecture.
Other notable attractions include:

Crown Treasury and Armory
Houses the crown jewels and the fabled Szczerbiec sword.

Lost Wavel
Features archaeological findings.

Dragon's Den
A cave with an interesting tale.

Cathedral
Nearly all the several dozen Polish kings were crowned and buried here. The cathedral is jammed with tombs and is venerated by the Poles.

Ticket system
Unfortunately, this is the weakest point of the Wawel Castle and Cathedral complex. Tickets to some interior attractions are sold separately, limited, and time-sensitive. Buy them as early as possible if you will be there during the peak tourist periods.

Freebie
You do not require a ticket if you stay outside. Just walk through the front gate and enjoy the castle grounds and courtyard.

How to pronounce
Wawel = vah-vell

Nearby wonders
Up the street is the Krakow Market Square, and a half-hour out of town is Weilicska Salt Mine. Both win Hillman Wonders bronze medals.

Location in Poland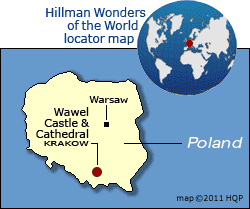 Know these Poland tips and insights
Poland medal winners
Gdansk Old Town
Krakow Market Square
Lublin Old Town
Malbork Castle
Warsaw Market Square
Wawel Castle & Cathedral
Wielicska Salt Mine
Zamosc Old Town
Also read
Poland Wonders - Rankings
Basic Polish phrases
Photo by Jakub Halun - CC BY-SA 3.0
Polish National Tourist Office

World's Top 100 Wonders
World's Top 1000 Wonders
Site map
My credentials
About my website and criteria
Reader testimonials