Canal du Midi cruise
Cruise tips you can trust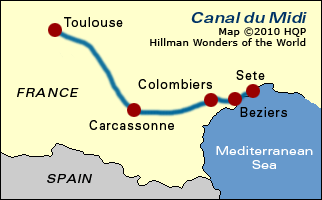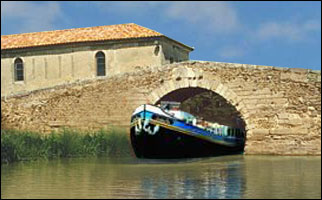 Canal du Midi
cruise tips & insights

Quick overview
The Canal du Midi was constructed by 12,000 workers in the 17th century to let cargo barges take a short cut from the Mediterranean to the Atlantic. It meanders between Toulouse and Sete in southern France for a distance of 240 kilometers (150 miles).
Today, the waterway is used mainly by barging and yachting vacationers.

Best stretch
Select the segment between Carcassonne and Colombiers. It has the highest concentration of stunning vistas and attractions. And you avoid the time-wasting 8-lock Forseranes complex, which lies between Colombiers and Beziers (see map above).

The gratifying
barge experience

Life moving at a slow, relaxed pace (Canal du Midi boats by law travel at walking speed).

Seeing picturesque villages, chateaus, churches, bridges, farmhouses, and vineyards.

Biking, hiking, and walking down tow paths and quiet rural roads.

Exploring medieval Carcassone.

Dining in charming country restaurants.

Mingling with cruisemates and friendly locals.

But before you decide
to barge, recognize...

A significant amount of your "cruising and unwinding" time may be spent waiting for locks to open, fill, and drain.

And lunchtime lock-closings complicate your schedule.

Unless you're on a full-crew luxury barge, you will do a host of chores including cooking in a cramped galley, making beds, rope-pulling your boat through locks, and more.

If it downpours, you're stuck inside tight, non-airy quarters.

And don't even think about swimming in the canal water.
Not a vacation for some people.
Click button for my
oother Midi Canal cruise tips


Nile
Yangtze
Kerala Backwaters
Rhine
Mekong
Amazon
Danube
Rhine-Danube Combo
Volga
Canal du Midi

World Wonders - Top 100 rankings
World Wonders - Top 1000 list
My credentials
About my website and criteria
Reader testimonials
Site map