Volga cruise
Cruise tips you can trust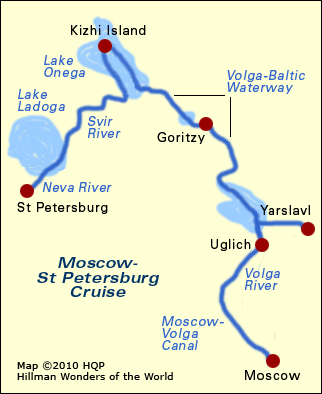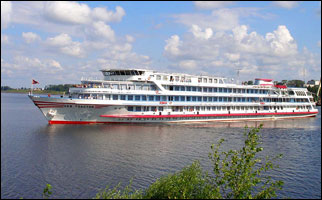 Volga River cruise
tips & insights

Volga cruise definition
Volga cruises sail on Russia's largest waterway, which stretches from the Baltic Sea to the Black or Caspian Sea. It comprises a vast network of rivers (including the Volga) connected by lakes, canals, and locks.

Appeal
The more a traveler is interested in history and cultures, the more he will relish a Volga cruise.

Volga cruise routes
There are two basic routes (each with a variety of itineraries offered by an array of cruise organizations). One route lies north, the other south of Moscow.

Between Moscow
and St Petersburg
Most popular and interesting route.

Between Moscow and
the Black or Caspian Sea
More time consuming and less exciting.
The remainder of this page focuses on the northern route.

Top 3 cruise ports of call
Select a Volga cruise itinerary that includes these three small, historic villages/towns:

Kizhi Island
Open-air architectural museum featuring a striking wooden cathedral

Uglish
Transfiguration Cathedral and St Dmitry Church

Yarslavi
St Elijah Church's frescoes and icons
Click button for my
other Volga cruise tips


Nile
Yangtze
Kerala Backwaters
Rhine
Mekong
Amazon
Danube
Rhine-Danube Combo
Volga
Canal du Midi

World Wonders - Top 100 rankings
World Wonders - Top 1000 list
My credentials
About my website and criteria
Reader testimonials
Site map