Rhine River cruise
Cruise tips you can trust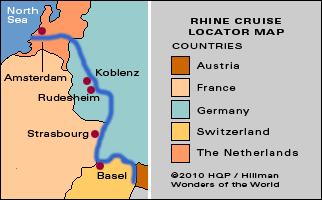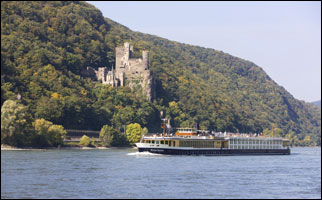 Rhine River cruise
tips & insights

About the Rhine River
It one of the world's most famous and longest rivers (see map above). The river is also one of the most international. It flows 1320 kilometers (820 miles) from the Alps to the North Sea, passing through or kissing Switzerland, Austria, Germany, France, and The Netherlands.

The three Rhine regions
They are the Lower (nearest the sea), Middle, and Upper (nearest the source) Rhines. The first and third have flatter and smoother landscapes, making them less stimulating for tourists. The Middle Rhine is by far the visitor's top choice.

Best sightseeing section
of the Middle Rhine
It lies between Koblenz and Rudesheim (or Bingen) for a distance of 65 kilometers (40 miles). Here the river narrows as it flows through a steeply inclined valley gorge.

Medieval castles
This short section is home to the world's densest concentration of medieval castles. They number several dozens and sit dramatically on steep slopes. Burg Katz, Marksburg, Reichenstein, and Rheinfels are among the best known.

Lorelei
The famous Lorelei rock soars 130 meters or 430 feet about the water. Legend says a siren sitting on top of the Lorelei rock distracts sailors with a mesmerizing song. This causes shipwrecks because sailors stop paying attention to the dangerous rocks and currents at the foot of the Lorelei.

Medieval villages
The riverbank's picturesque Medieval villages with half-timbered buildings delight onboard cruisers. So do the manicured, steep-inclined vineyards. You can also explore the villages and enjoy vineyard wine tastings during shore excursions.
Click button for my
other Rhine cruise tips


Nile
Yangtze
Kerala Backwaters
Rhine
Mekong
Amazon
Danube
Rhine-Danube Combo
Volga
Canal du Midi

World Wonders - Top 100 rankings
World Wonders - Top 1000 list
My credentials
About my website and criteria
Reader testimonials
Site map