Statue of Zeus
seven wonders
insights you can trust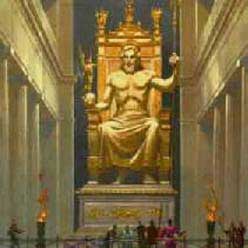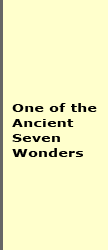 Why the
Statue of Zeus
Seven Wonders
is special
The statue of the Greek god Zeus at Olympia in Greece was one of the world's greatest statues
Interesting
Statue of Zeus
tidbits

Sculptor
The Temple of Zeus was created in about 450 BC by the renowned Greek sculptor Phidias. He us the same artist who created the famed statue of the goddess Athena for the Parthenon in Athens.

Size
Zeus' seated figure (see picture) was 12 meters (50 feet) high. The head nearly scraped the ceiling of the Temple of Zeus. Phidias wanted to emphasize Zeus's mightiness.

Components
Zeus' body was ivory and his robe, hair and beard, gold. The throne was cedar inlaid with precious jewels. Zeus's outstretched right hand held a small statue of Nike, the goddess of victory.

Housed in the
Temple of Zeus
The Statue of Zeus was inside in the 64 meter (210 foot) long Temple of Zeus, which could be called a wonder on its own merits. The 72 exterior Doric columns of this Seven Wonder made a stunning architectural statement. And, its pediments and metopes were ornamented with outstanding sculptured artwork.

Temple of Zeus
map location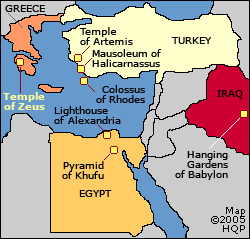 Learn More

for Statue of Zeus - Page 2
Learn my other
Seven Wonders tips & insights

Colossus of Rhodes
Hanging Gardens
Lighthouse of Alexandria
Mausoleum of Halicarnassus
Pyramid of Khufu
Statue of Zeus
Temple of Artemis

Pyramids of Egypt -1
Great Wall of China - 2
Taj Mahal -3
Serengeti Migration -4
Galapagos Islands -5
Grand Canyon -6
Machu Picchu -7

The 5 major ancient list flaws
10 amazing facts

World's Top 100 Wonders
World's Top 1000 Wonders
Site map
My credentials
About my website and criteria
Reader testimonials