Yangtze River Cruise
more insights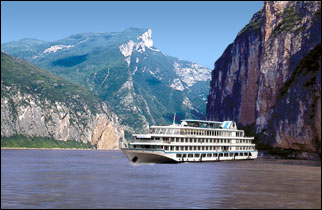 More
tips and insights for
your Yangtze cruise

Lengthy river
It is the world's third longest (after the Amazon and Nile). The river begins in the lofty mountains of Tibet and Qinghai provinces. Nearly 6,400 kilometers (4,000 miles) later, it empties into the East China Sea near Shanghai.

Vacation with
a vacation
You get to unwind on a ship in the middle of your fast-paced China land tour. It becomes a vacation within a vacation.

Smaller than
ocean cruise ships
Yangtze cruise vessels are tinier (normally about 100 cabins) than those on the vast majority of sea-going cruise vessels. The experience is more personal, which makes it easier to get to know fellow passengers.
Learn my other
Yangtze Cruise tips and insights
Why it's special
Best 5 boats
When to go + Routes
Three Gorges + Shore excursions
Three Gorges Dam
What it's like aboard
More tips & insights
Top 10 Wonders of China
Chinese cuisine
Visit the China National Tourist Office website

World's Top 100 Wonders
World's Top 1000 Wonders
Site map
My credentials
About my website and criteria
Reader testimonials